Coyote Madness.
Our community is going through its periodic Coyote Craze. Even though everybody knows that coyotes are permanent fixtures in these here parts, Leisure Worlders think they should be able to let their poodles and schnauzers run free without fearing they'll become Coyote Snacks. So our Google group has been clogged lately with coyote photos and sighting reports like this one:
Just heard that one of the roaming coyotes bit a dog as the owner was walking. Management needs to get fish and game to trap these coyotes now. That's dangerous.
So I replied:
Without the owner's name and manor number, that's hearsay information. The dog may have been on a retractable leash, or off-leash. And the owner may have forgotten to carry a can of Mace.
The Arizona Game and Fish Department recommends Living With Coyotes: "Remember, removal is usually a last resort. Coyotes will return to the same area if attractants such as readily available food and water are not removed."
https://www.azgfd.com/wildlife/livingwith/coyotes
FYI, coyotes consider the following items to be "readily available food": rabbits, geese, ducks, fruit on the ground, unsecured garbage cans and unattended pets. In other words, Leisure World has been, and always will be, a Coyote All-You-Can-Eat Smorgasbord.
Plus, coyotes move fast. If someone sees a coyote on the east side of LW, the animal can easily be on the west side in ten minutes. So posting pix and sighting information is essentially useless, and only serves to increase the sky-high level of paranoia around here. Instead, why not use your spare time to make coyote shakers, as the AZGFD site recommends? Then, practice improving your aim by throwing them at your neighbors' unsecured garbage cans. JMHO.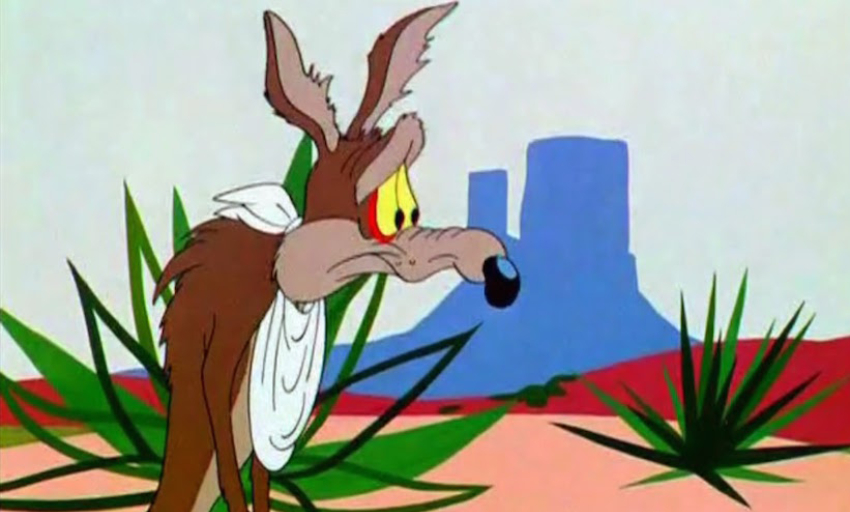 Are Volvo Programmers Really That Stupid?
We recently traded in two cars and bought a Volvo. Fancy car. Nicest car we've ever owned. Plus, it's a computer on wheels. Everything's automatic. Except the clock. Bizarre. And annoying. So I started tweeting at the company:
1) @volvocars Can your software engineers solve the Arizona clock issue? The only way I can get the correct time in my XC40 is by setting it manually. Your team is aware of this malfunction:
http://volvo.custhelp.com/app/answers/detail/a_id/9546/~/setting-the-clock
"Note: Automatic time may not display the correct time in Arizona."
1r) Replying to @acbaird Hi Alan, unfortunately since Arizona does not have daylight saving time the clock must be adjusted manually.
>>Bzzzzt. Wrong answer, Volvo. Your patronizing condescension has simply pissed me off:
2) @volvocars has 3 dealers in Phoenix, plus 1 more in Tucson, so I assume you sell at least a few cars here in Arizona. And every other company in the world has learned how to adjust for AZ time. Aren't you ashamed to admit your software geeks can't figure out this simple problem?
>>After a couple of hours, I decided that wasn't vicious enough. So my latest tweet includes screengrabs. ;-)
3) @volvocars L: Windows, R: iPhone. Google Maps and Waze are able to display Arizona time, based on GPS data. My Mazda, VW and Toyota could all figure out the correct time from GPS. But my Volvo clock loses THREE MINUTES EVERY MONTH because it must be set manually. Embarrassed yet?
>>You can see that I'm on a holy crusade for oppressed Volvo owners everywhere. ;-)
Setting the Volvo Clock in the Good Ol' Arizona Summertime.
Swipe down on the Home screen, tap "Settings" at the top left, tap "System" at the bottom, tap "Date and Time" near the top, tap "Location", tap "U.S. Mountain Time" after scrolling way down near the bottom, tap "Back", uncheck "Auto Daylight Saving Time", uncheck "Auto Time", manually set the Time, tap "Back" and push the "Home" button.
I've discovered that the manual Time setting needs to be updated weekly, in order to keep the clock reasonably accurate. There's a video about this, on Facebook:
https://www.facebook.com/CourtesyVolvo/posts/3098066620236304
NOTE: NONE OF THIS MANUAL WORKAROUND IS NECESSARY. CHEAPER CARS SET THEIR CLOCKS AUTOMATICALLY. A LUXURY CAR LIKE VOLVO SHOULD DO THIS, TOO, BUT THE VOLVO CORPORATION FEELS NO SHAME. The company is treating its Arizona customers like crap. Volvo now has three dealerships in Phoenix and one in Tucson, so they're selling a sh*tload of cars here. But unless every Volvo owner in Arizona complains to his/her dealership, and every AZ dealership complains to company headquarters in Gothenburg, Sweden, the malfunction won't get fixed. The irony is this: Volvo would need to invest only TEN MINUTES of programming time to make things right. (I use three different programming languages, so I know whereof I speak.) Instead, the company arrogantly forces its Arizona customers to perform this useless and frustrating Hokey-Pokey for nearly eight months every year. UPDATE:
Many Volvo owners are already complaining about this issue online
. Oh, and
here too
.
LATER: The Tuba Time Warp Challenge.
If Volvo programmers can design a car clock that's able to automatically adjust to the correct time(s) for the entire 108 miles between
Tuba City and Steamboat Canyon on Arizona Route 264 during Daylight Saving Time
, then all is forgiven. ;-)
Labels: volvo
Paying it forward... exponentially!
I volunteered at the local vaccinatorium (is that a word?) on
April 8
, and copied that posting onto our community's Google Group.
Today, I received an email from a neighbor I've never met: "[your posting] motivated me to get about 25 pickleball players plus myself to sign up together to volunteer at the Dexcom POD."
I'm so happy right now, I could sh*t rainbows. ;-)
LATER: the pickleballers!
Wanted: animator.
I have raised a small budget to produce a short animated film based on this Hungarian-themed script:
http://9TimeZones.com/s/azertis!.htm
Synopsis: Even though this European nation has existed for more than a thousand years, over 70% of the country "vanished" after World War I. Today, the exiles' great-great-great-grandkids still think in Magyar.
The final goal is to qualify for Academy Award consideration, after showing the finished film at various festivals. I believe this project needs a simple, line-drawing "wiggle" style (
animation boiling
or
Squigglevision
), but with no "cartoonish" characters. In other words, the people and animals must project dignity, even when they're doing funny things.
Picasso's line drawings
are good examples. Interested parties should submit one or two sample video links to: HotTip [at] Gmail.com (Animators with connections to Hungary will be given preference.)
Alan C. Baird
http://amazon.com/author/acb
Labels: Magyar
Vaccine: a volunteer's perspective.
The college kids who volunteered to staff the Phoenix Municipal Stadium POD where I was vaccinated were all motivated by the chance to get an early shot (one shift = two Pfizer doses), but they were also very helpful. You might say their enthusiasm and goodwill were infectious. ;-)
So I wanted to pay it forward, when I became fully vaccinated, two weeks after my final shot. The
Dexcom warehouse POD
is Arizona's first indoor drive-thru facility, and it's
less than 8 miles away
.
Long story short, I volunteered for a shift today. It was somehow very uplifting, to feel like I was part of the massive effort to haul us out of this pandemic. Highly recommended.
PS: I worked in the Observation area, where people wait for 15 minutes after they get immunized. I have plantar fasciitis and fallen arches from one-too-many-marathons in my wasted youth, so my feet felt like stumps by mid-afternoon, but it was well worth it. There's nothing like the contact high you get from those who have just received their second shot. (That's my lane, to the right of the big orange thingie.)
I started blogging on 4/4/1996 - 25 years ago.
I first went online in late February 1996, then spent more than a month converting my
screenplay formatter
from the DOS version of WordPerfect to Windows.
So March was hairy. But in April, after I put up
a website to sell the software
, I thought it might be fun to start an online diary. I designed a cute little "Top|Up|Down|End" link-navigation system and started writing.
Blogs didn't exist back then. Nobody was really keeping an online diary, because you had to know HTML. And code geeks generally avoid writing. They like to code.
In December of 1997, 20 months later, the term "weblog" was coined. It was subsequently shortened to "blog."
In July of 1999, the first automated blogging software finally appeared.
By September of 2001, I figured everyone and his dog had jumped onto the blogging bandwagon, so it was no longer cool to be a blogger. Plus, I was burned out. I had to quit.
But in
February of 2004
, I signed up for Blogger and never looked back.
Until now. ;-)
***
PS: I taught a Blogging 101 course for the University of California in 2005, and Palm Springs Life magazine hired me as their online-editor-slash-in-house-blogger soon after. That lasted for only a year, but it was fun.
PPS: My screenplay formatting software eventually evolved into
this family of 10 free downloads that won a $3,333 prize
.